Back to Store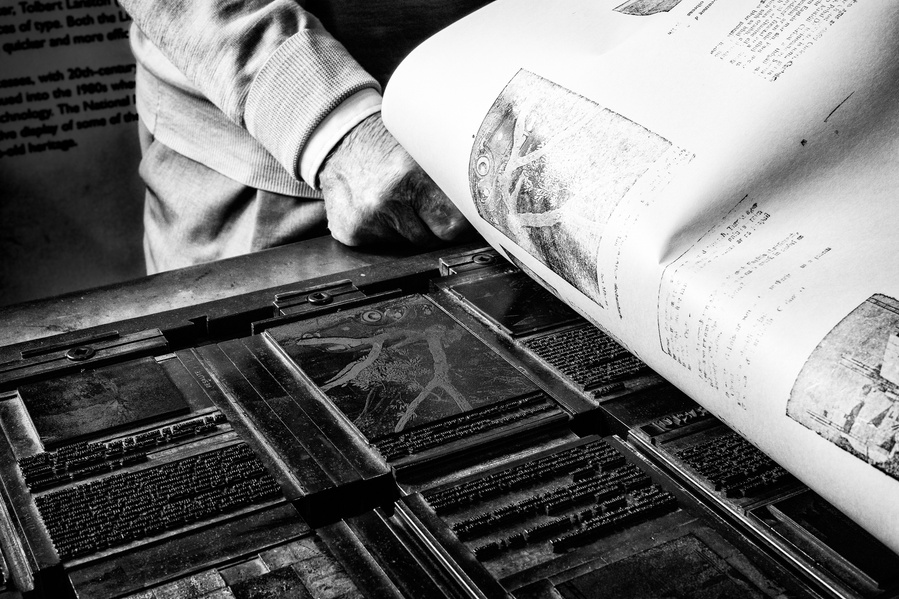 The Forme
€123.00 EUR
Shipping costs will be calculated at checkout.
The Forme. This is a large forme with printing plates using in the printing industry, used in conjunction with the Wharfedale printing press.

In the mid 1800's, during the Industrial Revolution, many new large-scale printing presses were invented worldwide to speed up the printing process. Many of these presses were steam driven and used a cylinder or rotary system.

Using a moving beg and cylinder system, this press could produce 800 copies an hour and was known as the 'workhorse' of the industry due to the high speeds of productivity. It was on a Wharfedale Printing Press, that the 1916 Proclamation of Ireland was printed.

The hand model in the photo is of the late Alf McCormack, who was a retired printer.

This photograph was taken in the National Print Museum located in Dublin, Ireland.
--------------------------------------------------------------------------------------

Limited Edition of 75 (of A2 paper sized) black & white prints. Printed on Hahnemuhle Museum Etching 350gsm FineArt paper with LUCIA pigment inks, which combined have an age resistance of 80+ years, if kept out of direct UV light.
Each Limited Edition print will come with a Certificate of Authenticity along with uniquely-coded holographic labels that are affixed to the back of your print and on the certificate. These are registered with a Art Registry.
The print is unframed, with a white border to facilitate framing.

Every Limited Edition print is numbered and signed by the artist, with the month and year when printed. All photographs are printed to order.
-------------------------------------------------------------------------------------

Prints are shipped rolled in an protective thick cardboard tube through registered post from Ireland. Registered post with An Post offers secure postage to over 200 destinations worldwide, online tracking, insurance and compensation.

[unregistered post is available on request prior to making your order, please email me]

All listed prices are inclusive of Taxes (VAT 23%). Postage is costed separately.